Everything You Need For The First Three Months That No-one Told You About
The first three months after your delivery are the hardest and the most delicate. I'm sorry for the way I'm starting this article but you need to know this. If I learned something from my last pregnancy, it is knowing exactly what to expect and what's coming next! I'm not AN expert, but I'm a mom who went through this and who remembers every detail so I have to share everything I know and all the tips with you, pregnant mammas because you need them, especially coming from a MOM. So I made you two lists: the cheesy one that you can find all over the internet and another one with things that no-one will tell you about! In the basics list you will find the products and brands I used for each with recommendations, what worked for me and what didn't So here we go.
The Basics
The monitor
You have no idea how much money I spent on monitors I literally tried them all. I loved Tomy Monitor, you can order it online from Amazon, or from Mumzworld in Dubai (maybe easier). Another Monitor for premature babies or crazy moms like me is Angel care, it detects babies breathing and will alarm you if baby stops breathing. THE best one is an application on App Store and play store that you download on two different devices (an Iphone and an iPad) and use one of them in baby's room and the other one with you. Check out this article and download it NOW.
Surveillance camera
It's different than a monitor, you use this when you go out, especially at night, eventually you will do it and you will need to monitor your baby through a surveillance cam while you enjoy your outing. DROPCAM: I got it from the Apple Store in US while mom was there but I found it here for you (worth every penny and it's apple approved) you need to install the application on your phone and buy as much cameras as you need in your house (I only have in babyT's room) you will be able to switch from one room to another from your phone. It also records videos in case you wanted to review them. It needs high speed internet.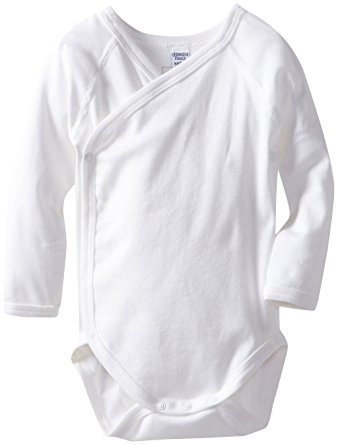 Clothing (you and him)
Yes I know you have got this covered but I have two tips to give you with some references:
1: For the first month, or until baby has a steady neck, use the underwear that have buttons in the front you only have to lay the underwear open, put the baby on top of it and button it, unlike the ones without buttons where you will have to move baby's unsteady neck. Unfortunately, mother care (which is the best destination for baby's underwear and everything related to cotton) don't have them. You can find them at petit bateau. Get 6 maximum, you won't need more. Baby will outgrow them quickly. They are super tiny and super cute!! check the pic up
2: Mothercare's onesies with buttons are the best option for baby's pajamas. Don't think twice. Check the pic up.
3: Trust me on this one, your baby is too small, weak and young for clothes don't think about it before he's at least 3 or 4 months old! You won't take him out the first three months so just get PJs and underwear!
4: Oysho has the best nursing Pajamas for you so instead of wearing a nursing bra + pajamas, you only wear a pajama.
5: Make sure you get pajamas with buttons buttons on the chest area and are easy to "uncover" you will use your boobs a lot the first months, they need to be "easily accessible" for the baby.
Nappy Sacks
While those should be basics, a lot of people are shocked when they see me using them. Those are perfumes bags that smell like baby powder for whenever you change baby's diaper inside and outside! BabyT is 2 and I still use them as disposable nappy sacks and waste bags for dirty wipes, unfinished apple... GET THEM.
Wipes
I know you've got this covered too but I have some recommendations:
1) Don't use the commercial wipes at least for the first month. Theres only one brand of wipes that you can trust fully: Water wipes unfortunately I couldn't find it in Lebanon, you can order it from Mumzworld too . Let me know if you find it in Lebanon! I'm expecting too! The downside: The wipes are cold! Especially if you deliver in winter! Read suggestion number 2 below, its my way of doing it.
2) If wipes are a NO for you then try this method of diaper changing. Things you need are cotton disks (try to find the softest), two small containers, one Thermos, a small towel and of course the nappy sacks. You fill the thermos with hot water that will last for long. Honestly, I used to use drinking water the first month for diaper changing. When you need to change your baby's diaper, you open one nappy sack to use it as a small trash bag next to you, you fill one container with warm water: depending on the temperature of the water in the thermos, you add some cold water, use the other container for the cotton disk, soak the cotton disk in warm water and use it as wet wipes for the baby, make sure you tap dry with the small towel.
PS: To avoid diaper rash, make sure you wash baby's bottom with special hydrating soap (Sebamed, available at all pharmacies) and water when it comes to number 2 (poop)
Pump
Medela freestyle Pump! You can find it at any big pharmacy in Lebanon. It's the best. Tried and Loved.
Have you heard of Willow's Breast pump? I don't have an honest feedback but it looks super exciting! Read about it more here
The KoolMom's list
Olive Oil
Baby's skin is extremely sensitive during the first months and they tend to develop weird rashes and "things". I tried EVERYTHING, all brands of creams and baby oils Nothing beats virgin olive oil. Please Trust me! I refused and acted crazy at first when my mom and my sister in law told me about it. Don't bother yourself. It's organic and natural. My baby smelled like a labneh sandwich for 3 months! OLIVE oil is the answer for any skin condition. TRUST ME.
Mebo
Yes! for cracked nipples! I also tried EVERYTHING. I wanted to Gove up breastfeeding, until I called THE best breastfeeding consultant in Lebanon Nadiya Dragan. I was in excoriating pain until I used Mebo. It was the only cream that healed them. Don't forget to clean your breasts super good before you breastfeed though. Don't bother getting those super expensive nipple creams. Nothing worked.
Brazilian seeds
From Rifai Nuts. Brazilian seeds are known to increase milk supply. I'm not gonna say more, You can thank me later 💦 I'll text you my bank account.
The Breastfeeding cover
You can also find it at Mama sues or cookie dough boutique.
Fresh Anise
Ok beautiful, let's talk dirty! After all the pushing and the labor, remember that a baby just got out of your Vagaygay so you're kind of a mess down there. Everything will go back to normal don't worry! I promise you! I have been told that the first time you take a poo after your delivery you might faint from pain. Literally... I didn't feel anything. Sorry for being gross but you really need to know this. The anise tea, other than it's calming effect on you and your baby (through your breastmilk) it will losen your umm poo, so you won't feel a thing. you can also thank me on this later! 💩 Drink three cups pose day.
A book, Series or Netflix
Anything that will entertain you while you breastfeed. The first two weeks baby might breastfeed for 24/7! you need something to entertain you and that doesn't require you moving.
A phone that takes beautiful pics or a professional cam
I can't believe how time flies, they grow so fast. I almost forgot how Toufic looked when he was a newborn. Sometimes, when I go back to old pics, I can't believe my eyes, so take as much photos and videos as you can because this is the only thing that will last.
Your MOM
Other than her being there, listen to her. She's right, you're not! end of story. I once called the pediatrician asking her something about Toufic and complaining about what my mom asked me to do, she told me: Listen to your mom, she's always right and she knows more than I do. She was right, everything my mom told me was right including those crazy stuff they come up with.
Is there anything else that you needed to know? Contact me on thekoolmom@thekoolmom.com
Also, don't forget to check the article on things you need to do while you're pregnant and another one on how to lose your weight after delivery.
Xoxo
TheKoolMom